Agribank hosts the Regional Policy Forum and the 75th Executive Committee Meeting of the Asia-Pacific Rural and Agricultural Credit Association (APRACA)
15/07/2022
The Regional Policy Forum and the 75th Executive Committee Meeting of the Asia-Pacific Rural and Agricultural Credit Association (APRACA) will be held on July 20, 2022 in Hanoi with the topic "Promoting digital financial services as a critical vehicle to financial inclusion for farmer collectives".
The forum will take place with the in-person participation of more than 120 delegates from member organizations of the Association, participants from agencies, departments and sectors of Vietnam. The speakers will focus on discussing issues that are being considered by the world as important factors for development, including digital financial services and the application of financial technology for development of financial inclusion. The forum consisted of two technical sessions with the topics of: "Trends and opportunities in Digital Financial Services (DFS) to achieve inclusive and scalable models to support farmer collectives in Asia & the Pacific" and "Promoting financial inclusion in agriculture and rural areas". In addition, the delegates will also share practical experiences in improving access and inclusion in financial services for farmers and small businesses. The 75th EXCOM Conference will also be held to review the activities of the first six months of 2022 and the direction and tasks of the last six months of the Association.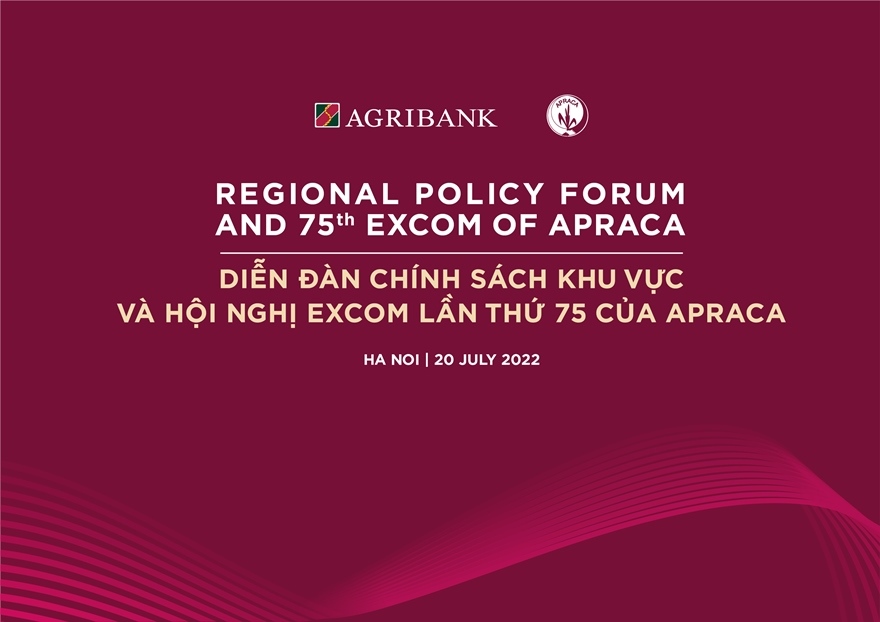 APRACA was established in 1977 with the goal of promoting cooperation and exchange of information and expertise in rural and agricultural finance, helping to promote productivity, inclusive growth, self-reliance, and welfare of the rural poor in the Asia-Pacific region. Currently, APRACA has 88 members from 24 countries. Agribank has always been an active member of APRACA's Executive Committee since joining the Association in 1991 and has hosted and chaired many important APRACA events.
The Regional Policy Forum is an event organized regularly by APRACA, attracting the attention of many international financial institutions and the participation of member organizations. This forum, to be held in Hanoi, is the first large-scale in-person event to be held after more than two years of online-only forum due to the Covid-19 pandemic.
Agribank News